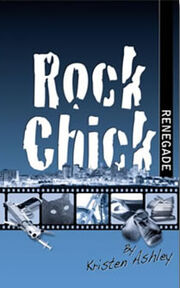 Official Book Blurb
Edit
Juliet Lawler has got a score to settle against the drug dealers of Denver. Vance Crowe has made it his mission that Jules won't get dead while dishing out vigilante justice. Jules doesn't have time for romance; she's too busy saving the world. She enlists Zip (the gunstore owner), Heavy (an ex-PI) and Frank (a mysterious recluse) to help. The Rock Chicks get involved to provide advice and guidance. The Hot Bunch adopt Jules as one of their own. Even though Jules tries to hang onto her inner Head-Crackin' Mamma Jamma, the Rock Chicks, Hot Bunch, Jules's long-suffering Uncle Nick and Jules's friend, the rotund, African-American, Jackie-O wannabe, May, will stop at nothing to wear her down. But Jules makes some bad guys pretty angry, and one will stop at nothing to take her out.
Characters
Edit
Jules' Crew
Edit
King's Shelter
Edit
Fortnum's and the Rock Chicks
Edit
Nightingale Investigations
Edit
Denver PD
Edit
Darius' Crew
Edit
Duke lays down the truth
Edit
"They don't fuck around because they see a lot of shit in their line of business. They know the risks they take and they know the danger. They don't have time to pussyfoot around and process emotions. They see what they want, they get it. The end." - Ashley, Kristen (2011-03-14). Rock Chick Renegade (Kindle Locations 7979-7981).